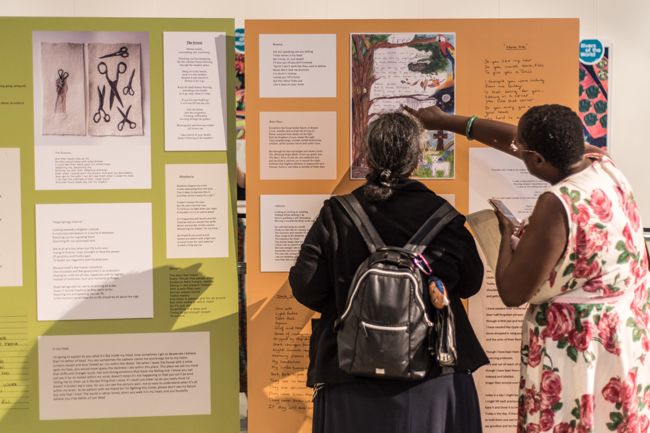 The article below is about the mental health poetry competition we ran in 2019
The Healing Words 2019 poetry competition celebrates the power of creativity in mental health recovery. This year's competition has been a huge success with 621 entries from the UK and around the world. We're extremely exited to be able to share all these wonderful poems with the public at a special exhibition in Paternoster Square, 2-3 October 2019.
Alongside the exhibition, we're running 11 special workshops on creativity and wellbeing. Come and join us. Download a leaflet
Paternoster Square, London EC4M 7DX
Wednesday 2 October & Thursday 3 October 2019
10.30am-6.30pm
The exhibition
We're honoured to have received so many moving poems written by those who've experienced mental illness. Each of these poems represents one person's unique experience of their mental health journey – and has the power to reach out and touch so many others.
Our intention with the Healing Words poetry competition is a celebration of the power of creativity, rather than a quest to find the 'best'. So come and be moved by people's stories.
All the poems that have been shared with us are displayed anonymously.
Just turn up – no need to book.
The workshops
A chance for you to get involved: from tips for building your confidence, to techniques for getting you writing – and even take part in an open mic poetry slam! A talented bunch of workshop leaders will guide you through 30 minute taster sessions for you to dip your toe in and learn new skills.
See the full workshop programme. Space is limited; reserve your seat.