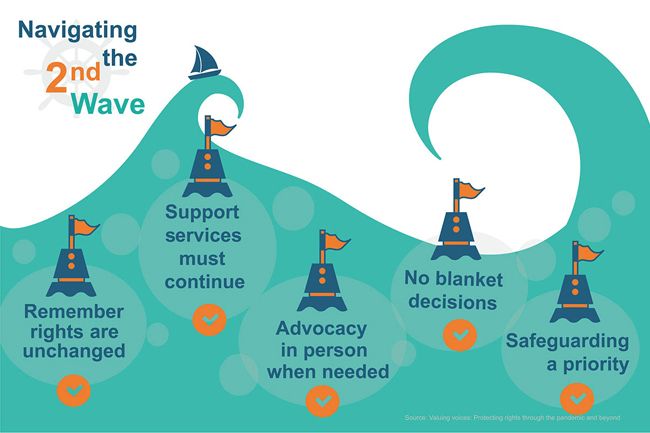 A new report published by advocacy organisations warns that disabled people and care home residents have seen their human rights breached during the first wave of the coronavirus pandemic.
Our short video introduction explains how advocacy organisations across the UK, including The Advocacy Project, have worked in partnership to survey nearly 450 advocates who have a unique insight into the situations vulnerable people find themselves in during the pandemic.
The report highlights that many people with disabilities and those living in care homes have lost out on vital health and social care services. They've had their needs overlooked and their rights breached through blanket decisions, overly harsh restrictions, and limits on their access to support. As we head into winter, more needs to be done to make sure we learn lessons from the first wave and do not see more blanket decisions that cause further harm.
Judith Davey, The Advocacy Project's CEO, said:
"Whilst we might all have experienced the same storm during the pandemic, we certainly haven't all been in the same boat. Those who are the most vulnerable, those who were locked in poverty and injustice before lockdown have often been hit the hardest. 

"As the advocacy sector, we decided to carry out some research and paint a picture of what we've seen.  The results of the national advocacy survey are important – we must use this information to address the issues in the health and social care system to improve things for the most vulnerable people during the second wave."
The report outlines recommendations to prevent a repeat of these problems, as the second wave of coronavirus sweeps over much of the UK. It is accompanied by advocacy principles, which outline the advocacy sector's approach to protecting people's rights at this unprecedented time.
Crucially, people's right to advocacy is unchanged. This means many people have a right to an advocate to support them to ensure their rights are respected, wishes understood, and needs are met.
The National Development Team for Inclusion (NDTi) have played a big part in supporting the survey and the report. Madeline Cooper-Ueki, programme lead at NDTi, said:
"Advocates play a key role in helping prevent abuse. It is imperative that advocates should continue to have direct access to those who need them, at a time when there are even greater restrictions on people's lives and pressure within health and care services."
Read Judith Davey's blog: insights about advocacy and Covid-19
Watch Judith's video about breaches of human rights
We're recruiting: see our vacancies