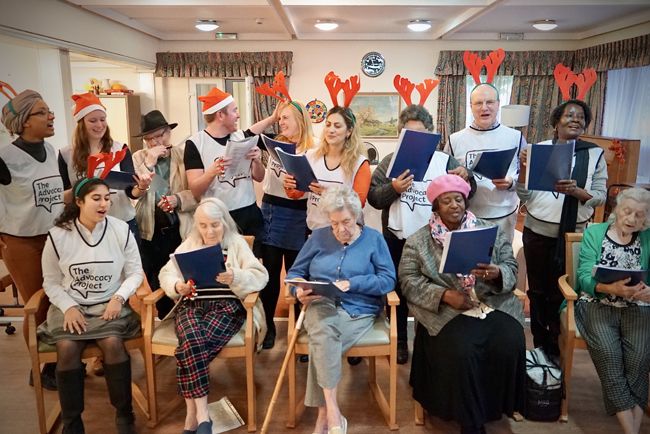 On 2 December 2019 we celebrated the completion of our community choir project at The Venture Centre's community Christmas gathering. Over the course of a year, more than 100 people sang with us. We performed in care homes, hospitals, community spaces and on the streets of central London.
Inspiring us
"It has been the happiest part of my week, singing with great people and it's made me enjoy the place I live much more than I would otherwise." Choir participant
We've had two fabulous musical directors: Joshua Kyeyune kick-started our singing adventures; Genevieve Dawson took over the reins and inspired us throughout the year.
Bringing people together
People say singing has the power to bring all kinds of folk together – and this was certainly our experience. We've reached all parts of the community: our very enthusiastic youngest singer was 18 months old, and our oldest was heading for 100 (we didn't like to ask exactly!). People with learning disabilities have been great choir members – their commitment has been an inspiration.
Favourite bits
"The Advocacy Project choir not only gives the opportunity to sing such up lifting and moving songs, but enables everyone to socialise, meet new people and make friends" Choir participant
There were many memorable moments. We particularly loved singing at 'Santa in the City' last year (in which hundreds of people dressed as santa race through central London). Our summer community performance was a real treat, with 40 people stretching their vocal chords with us in a big sing along featuring everything from South African spirituals to The Beatles. And we've been touched by many of our gatherings in care homes, where the simple act of singing together has brought a sense of connection and wellbeing. We raised money for Grenfell survivors – close to our hearts as many of our staff, service users and those involved with our organisation were directly affected by the tragedy.
Our aims for the year-long project were to promote wellbeing, address social isolation, create greater community cohesion and increase awareness of the value of advocacy. We did that beautifully.
What people in the choir said about their experience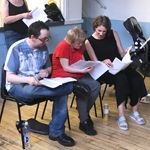 "Our choir leader is the person who makes it so brilliant"
"The camaraderie amongst the group is so apparent and must be such a lifeline to many from all walks of life and life experiences"
"Singing in the choir is a pleasure as it is uplifting, fun, good for your health and happiness"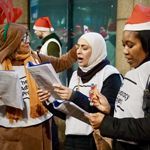 "The choir improved my mood and made me feel refreshed and optimistic."