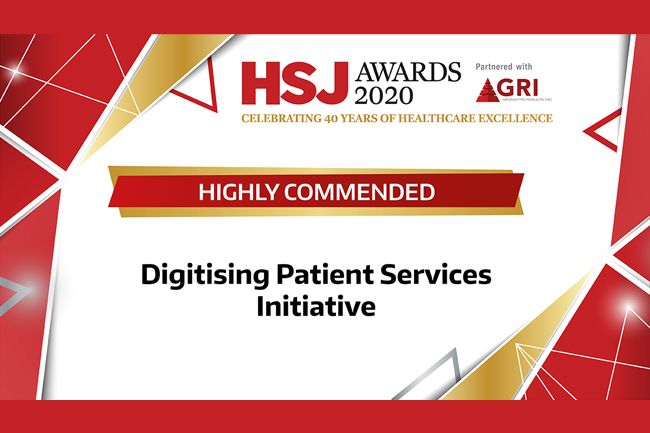 We're delighted to announce our collaborative project – a Digital Recovery Platform for Severe Mental Illness – has been highly commended at the HSJ Awards.
The Digital Recovery Platform for Severe Mental Illness is a fantastic example of the real change that's possible through coproduction and collaboration. The idea was initiated by patients, who told us they wanted more involvement in their care plans, and better access to their health information. We've worked as a collaborative team with City and Hackney CCG, East London NHS Foundation Trust, Core Sport, Patients Know Best and SilverCloud Health to make this happen.
"The project has demonstrably improved patient outcomes, improved efficiency and innovatively developed a digital platform to support patients with serious mental health issues once they leave secondary care."
HSJ Awards judges
Together, the organisations created a digital platform so people with severe mental illness can plan their care more easily, and choose how their personalised recovery programme is designed. The patient can share the information with different organisations and have more control about how this happens.
The HSJ Awards are the most prestigious and fiercely sought after accolades in UK healthcare. There was an extensive judging process, with more than 1000 entries, 186 finalists and 107 judges.
The award ceremony – believed to be the largest event of its kind in the world – was hosted by Sir Lenny Henry and Victoria Derbyshire, and featured guest appearances from Clare Balding, Gordon Brown, Dame Kelly Holmes, Sadiq Khan and Chris Whitty.
Project Manager Bonnie Studd said "I'm delighted our project was highly commended at the HSJ Awards. It's fantastic to be part of a project that was inspired by people with lived experience of mental illness calling for more meaningful recovery planning. They were involved in the design of the online platform."
"The entrants this year have been of incredible calibre, and each of those recognised at the Awards has been chosen based on their outstanding commitment to excellence in healthcare, I'd like to offer my congratulations to The Advocacy Project on being Highly Commended at this year's 40th HSJ Awards" Alistair McLellan, HSJ Editor
An aim of the awards programme is to share best practice and give people ideas of projects they can adapt for their organisations through the HSJ Awards 2020 Project Showcase, which highlights all 186 finalist projects.