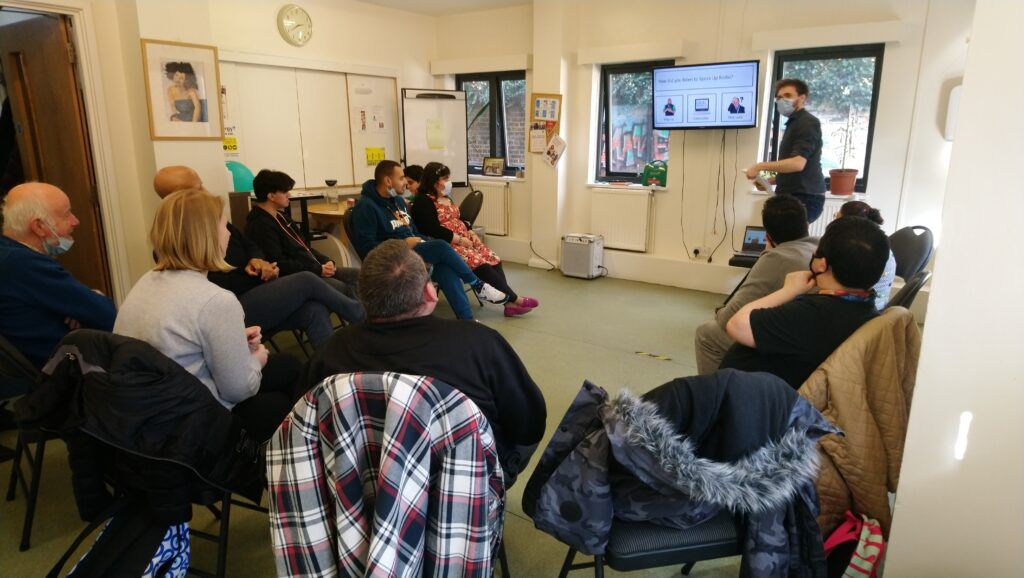 A session from our Speak Up Radio Roadshow
On 31 May 2022, we celebrated the end of our year-long Speak Up Radio project.
Speak Up Radio broadcast as a 24-hour, seven-day-a-week online radio station for people with mental health support needs or learning disabilities in Westminster and Kensington & Chelsea.
Speak Up Radio has now transitioned into a podcast, which you can find over at speakupradio.podbean.com
Lockdown
The need for Speak Up Radio came out of people's experiences of lockdown. The news changed every day, and many of the thousands of people we work with every year were isolated, lonely and cut off from support. People needed a service that could keep them up-to-date, share reliable information about local services, and provide a platform to talk about their lives. We wanted something that people could tune in and out of, wouldn't have to commit to, and was always just a click away.
On air
Every week for a year we broadcast over 15 hours of live and pre-recorded content, plus a constant stream of music, signposting clips and news bulletins, for over 1600 different listeners. Each week, we explored a different theme – everything from keeping fit to staying safe to expressing yourself. This let us work with 25 amazing organisations from all over London, across a huge variety of fields, including addiction recovery, refugee support, sexual and emotional wellbeing, LGBT+ charities and learning disability care providers.
Volunteers
We ran the whole radio station remotely, from the living rooms of our station manager and volunteer hosts, and by visiting care facilities through our Radio Roadshow.
We helped 60 people with lived experience of a mental health support need or learning disability create content for the radio and had 15 hosts with lived experience running regular shows. We found creative ways for people to record using technology they already knew, from Zoom to phones.
Favourite bits
Our Radio Roadshow, which visited care facilities across London to help people with learning disabilities host their own shows, was incredible fun. Volunteer hosts played music from Stormzy to Pavarotti and chatted about issues including their favourite things to do, climate change, budget cuts and mental health. Often, others would listen in the next room and let us know what they thought after the show.
Our Radio Roadshow session with Synergy – a team of six people with learning disabilities – turned into a regular fortnightly show about London-wide learning disability issues. One member of the group said: "I enjoyed it because it was the first time I'd ever done this sort of thing – if there's a chance to do it again, I'd do it again". Another said "I enjoyed it. I didn't think I'd be able to do it, but once you get talking! I found the live show easier for some reason, even though I was scared to do it. I forgot the microphone was there and just got on with it."
The series we ran with Migrants Organise and Turning Point were incredibly powerful, chatting in-depth with people with lived experience of the UK's immigration system and drug and alcohol support. We were blown away by our volunteer hosts' wisdom and happy to give a platform to their stories.
Dalia, a refugee who took part in the Migrants Organise series, said: "I wanted to share my experience as a refugee… hoping that sharing my journey would help people to understand how and why displacements occurs, elaborating on difficulties and lack of choice". Sarah, one of Turning Point's Drug & Alcohol peer mentors, said that she enjoyed "learning a new skill, overcoming the fear of the new [and] best of all finding out about all the wonderful things happening" by interviewing different professionals.
Listen to these interviews, as well as other episodes from our podcast, here: speakupradio.podbean.com